Promising preliminary, interim three-year data on iSTAR Medical's Minimally Invasive Glaucoma Surgery (MIGS) device, MINIjectTM, showed strong performance and no endothelial cell density (ECD) safety concerns in glaucoma patients, confirming the positive trend observed so far as part of the STAR-I trial.
The data have been presented at the Deutsche Ophthalmologische Gesellschaft (DOG) congress, the annual meeting of the German Ophthalmology Society, by Professor Christoph Hirneiss, Ludwig-Maximilians University, Munich, Germany.
In addition, 18-month data from the European STAR-II trial have been presented at the DOG meeting by Professor Burkhard Dick, Head of the University Eye Clinic Bochum, and one of the five German trial centres participating in the study. The data showed strong performance in intraocular pressure (IOP) and medication reduction at 18-month follow-up, in line with the STAR-I results at the same timepoint, and no safety concerns with corneal endothelial cell density.
"Based on performance and safety data seen so far, this supraciliary MIGS procedure offers a valuable bleb-free treatment option for patients with glaucoma requiring low target pressures," said Professor Burkhard Dick.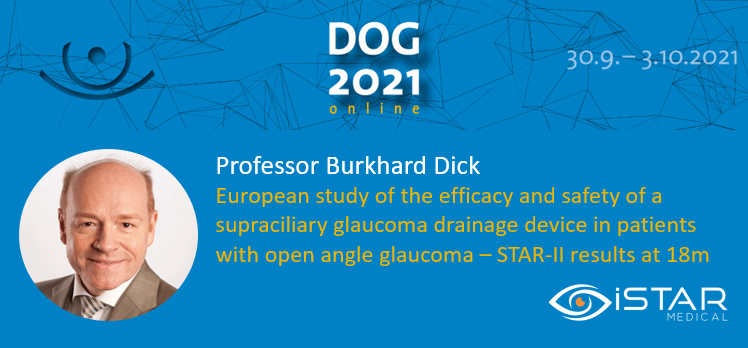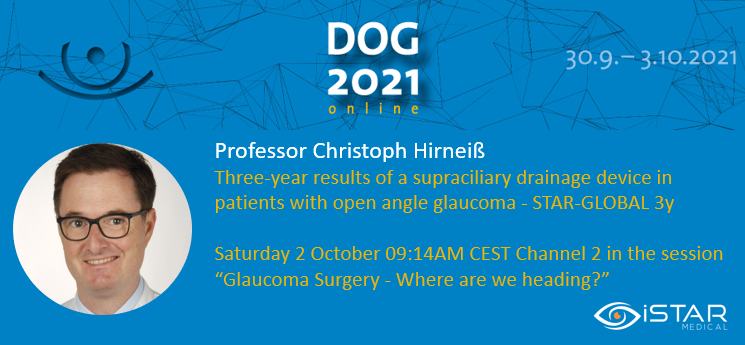 http://www.istarmed.com/wp-content/uploads/2020/10/Logo-iSTAR-Med-web-300x138.png
0
0
Ornella Bua
http://www.istarmed.com/wp-content/uploads/2020/10/Logo-iSTAR-Med-web-300x138.png
Ornella Bua
2021-10-02 09:30:44
2021-10-02 10:00:21
Preliminary, interim, three-year MINIjectTM data show strong performance and no ECD safety concerns